The basic concept of rubber pad is EVA foam as the substrate, single-sided or double-sided coated high-performance pressure-sensitive adhesive, composite silicon or silicon material from double-die stamping from. Available in a variety of thicknesses, densities and colors, it can be cut into rolls or punches in various shapes. The pad has excellent weatherability, chemical resistance, cushioning, sound absorption and excellent adhesion. .
Insulation pads are widely used in substations, power plants, power distribution room, test roommate and field live use, with high flexibility, dielectric working environment, the maximum insulation voltage of 100,000 volts. Color is divided into black, red and other colors, the general specifications for 3-80mm * 500-2000mm Technical parameters:
Specific gravity: 1.6-1.7 Cutting force: 5Mpa Elongation: 280% Hardness: 65 ° ± 5 °.
Pad storage should be stored in a dry and ventilated warehouse, away from heat, away from the ground and walls 20cm or more, to prevent acid, alkali, oil and other corrosive effects. Do not expose to direct sunlight.
Anti-skid pads are divided into a variety, mainly car anti-skid pads, bathroom anti-skid pads, hotel anti-skid pads. One automotive anti-skid pad is a new product in recent years terms, as popular car people like in recent years, sales and R & D are more speed.
The following brief introduction to some of the characteristics of automotive anti-skid pads, the data composition, and the purchase of this product Note:
Car anti-skid pads also known as mobile phone anti-skid pads, but also car anti-skid pads. Usually with a polymer called PVC soft material made of the bottom of the flat, because the polymer adsorption capacity, can play a role in anti-skid.
Anti-skid pad purchase and use should pay attention to:
Use the time to pay attention to: the first to buy back the mobile phone anti-skid pad with alcohol scrub and place in the shade for about half a day parked (you can achieve antivirus The role of production and the birth of life) Try not to use anti-skid pads with fragrance, because it is added to the fragrance of the body harmful to their own perfume sprayed on top is a good choice) mobile phone anti-skid pads the best use There are more than two mobile phone anti-skid pads can be used interchangeably!
Non-slip paste comprehensive description:
Non-slip bar
First, the product structure:
1 . Surface: the selection of non-slip sand, rubber non-slip fiber, sand-free special anti-skid material; Grassroots: PET PP PVC aluminum, etc .; 4. Primer: ready-to-use strong adhesive; Low paper: Yellow or white silicone paper.
Second, the appearance of color:
Specified by the user, you can shop all kinds of exquisite color patterns, trademarks and text, size specifications according to user requirements.
Third, the fabric type:
1. Strengthen the anti-skid; 2. Comfort non-slip type; 3. Universal anti-skid type; 4. Easy to clean type.
Fourth, the application:
1. PET PVC PP material base: It is recommended to apply to the surface or surface of the non-slip paste; 2. Aluminum substrate: Recommended for irregular arc surface.
Fifth, paste the surface:
Suitable for all kinds of painting, plastic, rubber, metal, ceramics, stone, smooth cement, smooth wood, glass, organic material surface.
6, environmental non-toxic:
Products for environmental non-toxic products; from raw materials to finished products through the SGS testing and the European HRA Z standards, in line with international health regulations.
Seven, the scope of application:
Suitable for any due to moisture, smooth, oil, special protection and the need to slip places and supplies.
Eight, application example:
1. Equipment: skateboards, scooters, treadmills, fitness, lathes and printing presses, the bus on the channel, steps;
2 places: kindergartens, schools, swimming pools, homes for the elderly, the station, subway station, dock, hotels, clubs, kitchen, bathroom, sports ground, fitness room, elevator entrance,
Then, for these kind EVA pads , Foam pads , what kind machine that we can choose ?
1, For EVA Sheets Material , if with sticking , and need kiss cutting , we can choose Kunshan Dapeng Precision Machinery Co.,Ltd machine item DP-650P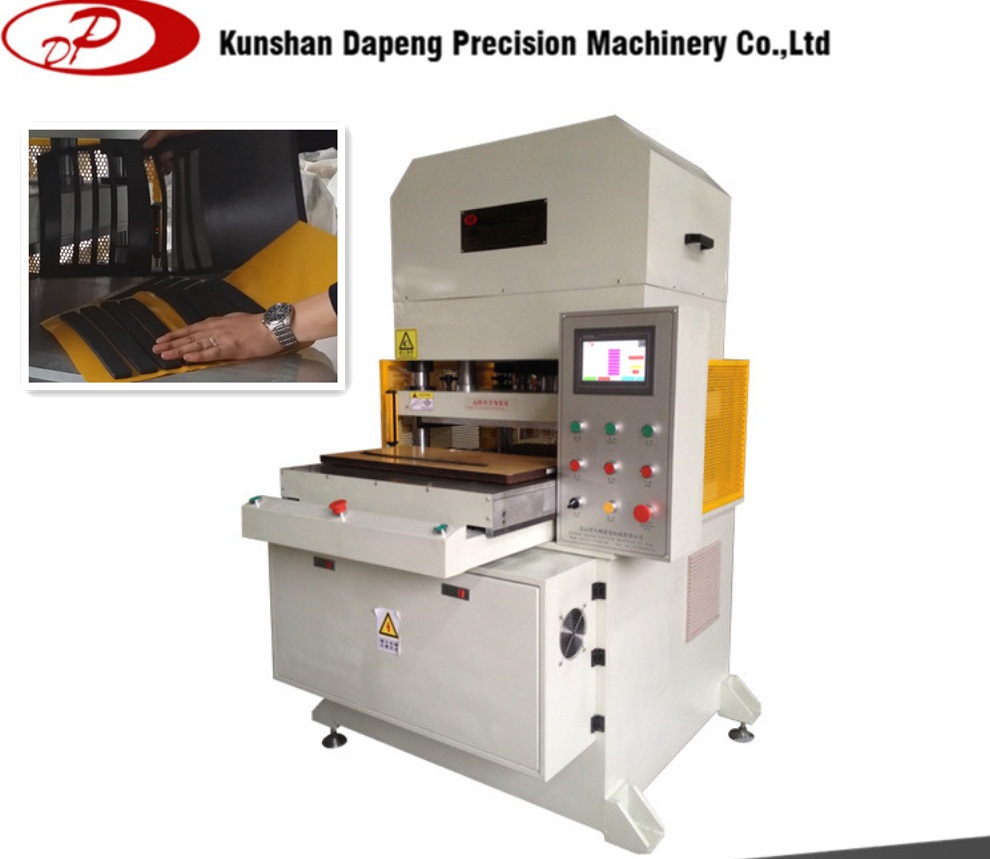 this is semi-automatic type EVA pad die cutting machine , the punching die cutting is automatic , it is PLC control , very precision for the cutting depth , can adjustment through die cutting and kiss die cutting
and if material is roll material , we have 2 kind optional ,
if narrow material . and EVA pad is thin, we choose DP-320B is ok
If Material is larger size than 400mm , we recommend use our automatic hydraulic type EVA roll die cutting machine